FloPlast Ltd are an established market leader in the manufacture and supply of plastic building and plumbing systems. They have been established in Sittingbourne since their inception in 1991 and prior to this development, operated from two sites in the area. Their acquisition of a 3 hectare site adjacent to their main site on the Eurolink Business Park allowed for significant expansion and the eventual closure of the remote site.
Our involvement included the following services:-
Geo-Environmental Engineering:
Geo-Environmental investigation;
Civil Engineering Design:
Foul & surface water drainage, access road, parking and external storage areas;
Structural Engineering Design:
Steel framed main building and smaller office building;
Provision of Principal Designer Services.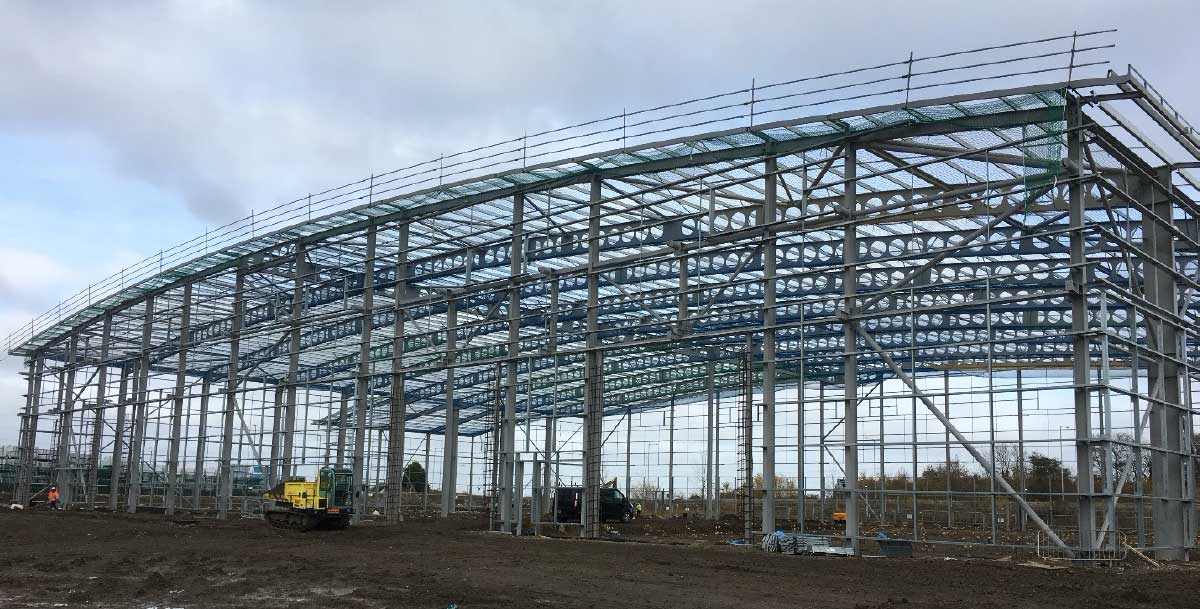 The new site had been subject to land raising in the relatively recent past, as part of the wider development of the business park and to address flood risk, and consequently the proposed building and its floor slab are supported by driven precast pile foundations.
The design of surface water drainage was challenging, given the low lying nature of the site and the sensitivity of the adjacent wetlands.
The new building covers an area of just over 6,000m2 and stands nearly 17m high, featuring an impressive curved roof, courtesy of the Westok cellular beams that can be seen in the picture above. The external lorry parking storage and distribution yard covered a further area 24,000m2.
As well as providing complete civil and structural design services, we undertook the topographic survey, flood risk, geo-environmental site investigation and CDM consultancy work, fulfilling the role of Principal Designer. We also prepared a piling risk assessment with respect to groundwater protection, allowing discharge of the planning conditions.
The Principal Contractor on the project was Knights Brown, and the Architect was Harrison Mutch (since acquired by OSG Architecture).
Harrison Mutch (since acquired by OSG Architecture)